Back injuries, lost work days and ergonomics
About 80 percent of adults experience back pain at some point in their lifetimes. It is the most common cause of job-related injury and a leading contributor to missed work days (1). Material handling equipment not only helps ensure good workplace ergonomics by minimising the risks of back injuries, but increases efficiency at the same time. Learn more about back pain, ergonomics and how to reduce the risks of back injury's in this white paper.
---
Back injuries and lost work days
During physical work, you often repeat the same movement and load many times during the day and thus risk developing back injuries. Eventually this causes sick leave or lowers employee retention and satisfaction. It is normal for back pain to come and go, but many find that the pain becomes more powerful and lasts longer.
Work-related back and neck disorders are the most common occupational disease in Europe and accounts for almost 50% of all occupational diseases. This is a big concern as this has been estimated to cost between 0,5 - 2% of the gross national product in European countries (2).
The greatest reason for back pain is physical overload such as awkward lifting, twisting or lifting something improperly, lifting something too heavy and working with the upper body bent over.
Recurring back pain resulting from improper use of the body is often preventable by avoiding movements that jolt or strain the back, maintaining correct posture, and lifting objects properly. This is where the right ergonomic lifting equipment can help.
Ergonomics and lifting
Ergonomics are important in everyday life. People are not constructed for continuous work, heavy lifting and bending in the back. If we do not lift objects properly then even light lifting can cause injuries. However, 75% of injuries caused by manual lifting can be prevented.
Ergonomics is about enabling each person to work better because there has been taken measurements to adapt the work environment to their body whether it being a mechanic or at a packaging line. Ergonomic measures help to achieve a better work environment and to strengthen the health and safety around the workers.
There are safe lifting guidelines for how much weight a person can lift.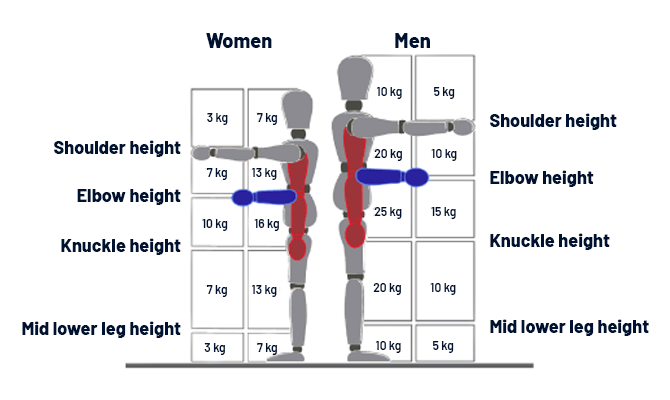 (3)
There are maximum weights for men and women. If these are applied, a man's maximum limit is 25 kg and a woman should not lift anything heavier than 16 kg (3).
However, the maximum changes when you take other factors into account. For example, if the object needs to be lifted away from the body or above shoulder height the maximum weight is reduced. Age, general health and body strength also needs to be taken into consideration as these will wary from person to person.
When a person is doing repetitive tasks the maximum is further reduced because involving the same joints and muscle groups over and over and doing the same motion too often, too quickly and for too long is especially hazardous (4).
Guidelines

Here are some guidelines to prevent back disorders. The execution can be done on different levels of the workplace:
Organisational factors: Integrate lifting info H&S policy
Workplace layout: Modify the layout to improve work postures
Management: Plan the work to avoid repetitive work and poor posture work for longer periods of time.
Workers: Improve risk awareness and provide training in good lifting technique and how to avoid twisting and inappropriate bending in the back while lifting.
Tasks: change work methods or tools.
Equipment: Make sure the equipment is ergonomically designed and suitable for the tasks. Three types of equipment are enhanced:
1. Use a trolley
Use a trolley to deliver and move materials, but also to reduce double handling.
2. Install a platform
Install a work platform so that the employee can be lifted to a better height and lift at their
correct working height.
3. Use lifting equipment.
Install equipment to support lifting and carrying of materials such as work tables and scissor lifts.
TRANSLYFT guides you to the right solution
At TRANSLYFT we are experts in safe lifting and can guide you to the perfect solution that will make your work environment more efficient. Our lifting solutions enables an ergonomic working position for the operator who is handling many items throughout a day.
We know that every lift is unique and that different industries have different challenges. We are equipped to deliver highly specialised solutions and certified to design and manufacture ATEX solutions as well.
"We take the time to understand our customers setup and needs, to come up with the right ergonomic solution the first time around.
If we cannot provide the best solution for you, we would much rather send you to the next lifting company than waste your time with a one-size fits all solution."
Jens Egelund, CEO
Contact us at +45 9886 4900 and we will help you find the right solution.

Find inspiration in our standard products here.
Sources:
(1): Occupational Safety and Health Administration, united states department of labor
(2): The European Agency for Safety and Health at Work
(3): Figure from British Safety Council
(4): Canadian Centre for Occupational Health and Safety