Supermarked increases efficiency and safety
A large Danish Supermarked needed to optimize the way they transported boxes of customers' goods for their new "Click and collect" initiative. Our lifting table made the process safe and efficient for the employees.
---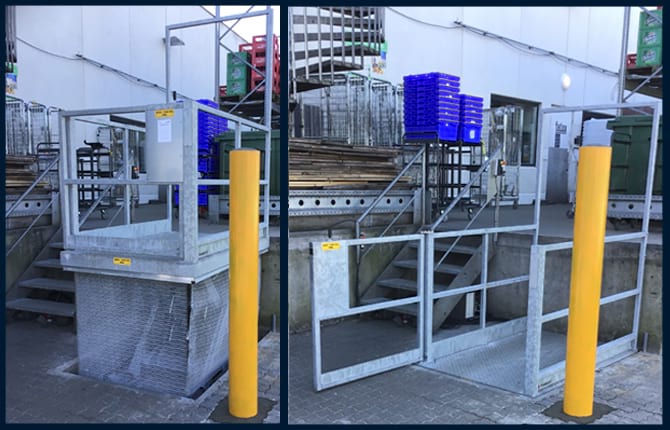 The Challenge

During the Corona epidemic, a large Danish supermarked developed a "Click and collect" concept, where customers buy their goods online and pick them up outside the store. The concept is a big hit, but it also means that many boxes of goods have to be moved from the store to the delivery area, where customers drive by and pick up their goods.

In this particular supermarked there is a level difference at the back of the store and down to the pick-up area. Here, employees used to lift the heavy boxes down a flight of stairs. However, it is not safe to carry heavy boxes on stairs and as the stairs are located outside, they can also be slippery.
In addition, the many inappropriate and heavy lifts made the working day extra hard for the employees responsible for transporting the goods.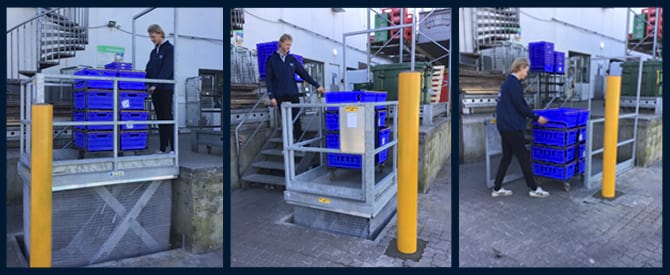 The solution

Translyft produced a lifting table in galvanized steel. Galvanized steel is weather resistant and therefore the obvious solution when a lifting table is to be placed outdoors. Safety was enhanced with handrails, a portal handrail that ensures no one can fall onto the lift when it is in the bottom position, and Interlock B locks on the portals that ensure the lift table cannot be opened while it is running.
The table was placed next to the existing staircase. This allows employees to drive the goods onto the lift, close the lift and set it in motion while standing on the stairs.


This solution can also be used for:
Sorting waste
Handling pallet, roll cages and containers
Better levelling
Loading and unloading trucks
The result

The result was an efficient and practical solution, as employees can lower many boxes at once rather than having to lift each box. In addition, the risk of falling accidents is minimized, resulting in a much safer workflow. Employees are happy with the solution, which does not limit who can take care of the transport of boxes.
"We've got a really good solution that makes the process more efficient and time-saving. The lift makes it easy and safe for all employees to transport goods to the customer delivery point."

Jacob Aagaard, Supermarked employee.