From lifting the roof to lifting the goods
A 1st tier automotive supply company was looking for an alternative to taking the roof and side off their building when they needed to change their machines. Our solution took care of this and furthermore provided them with a new internal goods lift mounted at the outside of the building.
---
The challenge
How do you change machines on the first floor?
One of the largest manufacturers of dash board instruments for the automotive industry in England – which is a company with a constant development of new products as well – often needed to change or replace machines.

Every summer the factory was therefore closed down to allow the machines to be changed. And often they had to remove the roof of the building hire a crane to change the machines in the first-floor production area.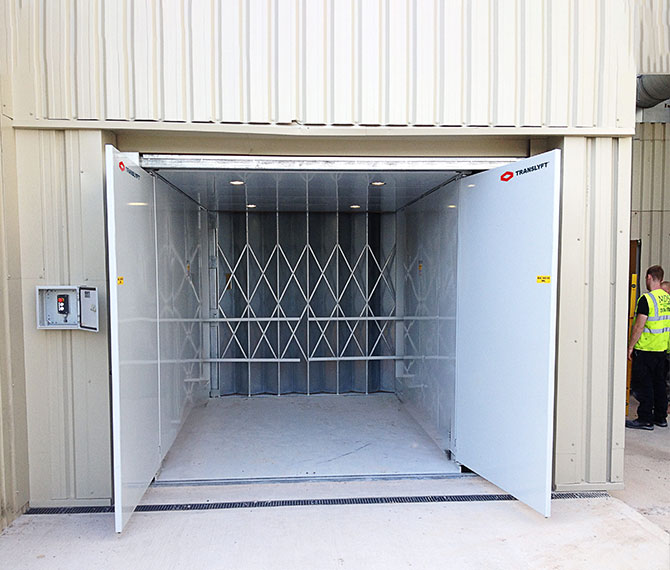 The SOLUTION
A twin mast lifting table mounted on the outside of the building
TRANSLYFT identified an area outside the factory building, where it was possible to place a lift and open two access points – one on the ground floor and one on the first floor. A twin mast lifting table was then specifically designed within its own self-supporting shaft.

At ground level there is a "through lift" entry/exit, making it possible to enter the lift from outside the building as well as from the inside. A full height lift car with interlocked car gates and external interlocked shutter gates completed the installation.
The results
Easy access and improved efficiency - not just for changing machines
The lift has enabled the company to change their machines without having to lift off the roof, and in addition it has increased the capacity for lifting products from the existing 1 ton payload to 3 ton.
"We went to TRANSLYFT with [our] challenges and they were able to provide
a large goods lift with a 3 ton payload that was installed within three months of order.




I was very impressed with the expertise of the team and the quality of the product."
Facilities Engineering Manager,

1st Tier Automotive Supplier