Servicing hospital beds without risks
The service department at a Danish hospital needed a solution to repair the many hospital beds that needed service. We delivered a solution where the beds could be lifted up to the best ergonomic working height without any lifting and even made working with the details such as the wheels easier. The solution is very popular and is used in different versions at many of the Danish hospitals.
---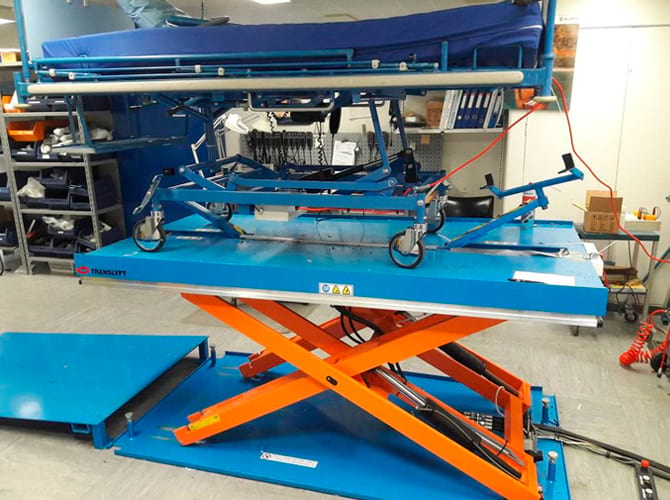 The challenge

Prior the service workers had to get the hospital beds onto a table whenever they needed servicing. When the four wheels needed mending, they drove the bed to the edge of the table and let the damaged wheel fall over the edge to repair it. This was both difficult and risky because the hospital bed could tip down off the table and land on the employee. In addition, the posture was both awkward and ergonomically inappropriate.
Therefore, the service department needed a better solution to be able to service the hospital beds with easy access to work in the optimal height and service the wheels safely.
The solution
The solution was a superlow lifting table with a ramp to easily push the hospital beds onto the lifting table and heave them up with a push at a button. Small rims were added to the lifting table to make sure that the beds did not slide off the table when being serviced.
Built-in jacks at both ends of the lifting table made it possible to service the wheels on the bed, no matter how the bed turned on the lifting table. There was a special lift arm that lifted the hospital beds to the exact height to release the wheels. The lifting arm could be moved from one end of the table to the other depending on where it was needed. In addition, the hospital could use the jacks to fix other lifting devices of their choice.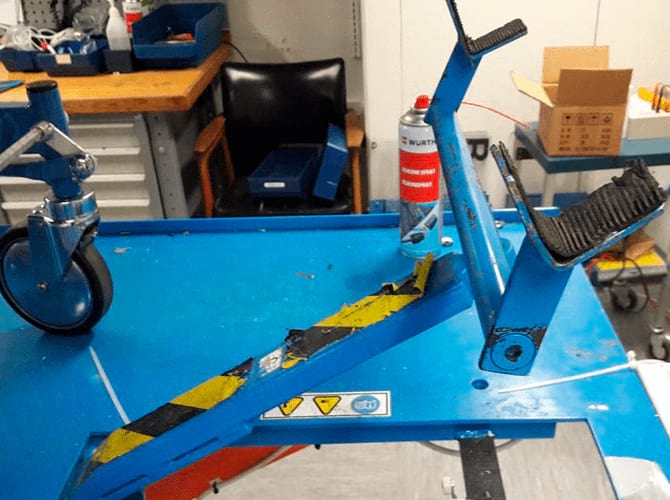 The result
The lifting table has made it uncomplicated to service the hospital beds and especially the work on the wheels has become painless and safe. The solution saves both time and increases efficiency.
Popular solution
The solution is incredibly popular and is produced over and over again with different types of accessories for the Danish hospitals. Below is a solution without the built-in jacks but with kick plates on three sides of the table so the hospital bed does not roll off. In addition, a tear drop plate is mounted on the table so that the bed is better fixed: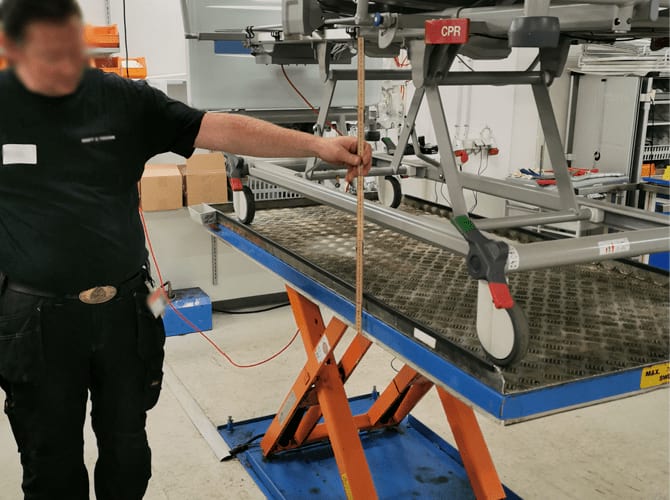 Accessories
There are several types of accessories that can be mounted on the table to make it exactly match the flow in your workplace. For example, it is possible to have removable or fixed kick plates (pictures 1 and 2), a ramp (picture 3) or to mount the lifting table in a pit making it easy to move the hospital bed onto the table without a ramp.