Solution for a fully automated warehouse
This is how we helped a system integrator meet the demands of an automated warehouse. Our solution worked expertly in the integrated system of cranes, conveyors and lifts.
---
The Challenge
Meeting the challenges of of an automation
A large system integrator in England was setting up a fully automatic warehouse for a client. The warehouse was in operation 365 days a year with 2 shifts and a cycle of 20 lifts per hour.
The system needed to handle pallets in a large storage facility. Dimensions were critical and detailed drawings were provided and approved before construction started.


The solution
The solution was grand
We installed 82 TL2000 lifts (single scissor lifts) set in chain conveyor lines with 1200Kg capacity to raise pallets up via crane forks.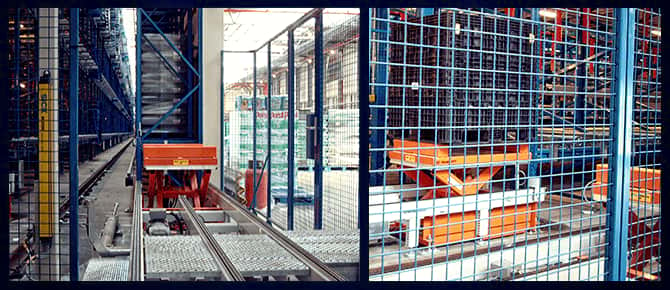 Furthermore, we installed 32 TLD2000 lifts (double scissor lifts) on order picking mezzanine level with 1200Kg. These were mounted in pits consisting of steel support suspenders below the mezzanine floor. Operators then strip the pallets onto an order conveyor belt, indexing the lift up as the pallet empties.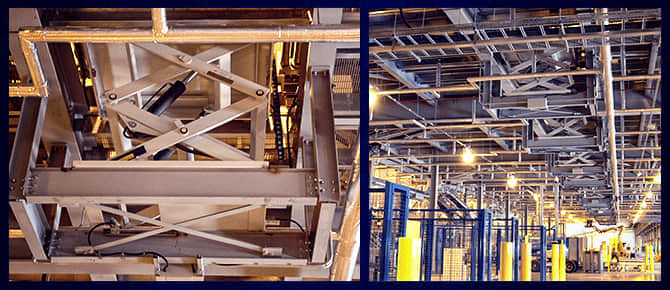 TRANSLYFT provided lifting tables made for intensive use and the usual safety devices; hydraulic control valves and motor according to the contractors needs. All the wires were then connected to a terminal strip mounted on the base frames.


The result
A system that worked and what the customer said
The customer was able to simply connect up to their logic control to connect the cranes, conveyors and lifts into one integrated system. And that is how this fully automated warehouse was set up with lift solutions from TRANSLYFT.
"We often use TRANSLYFT for our different lifting solutions. We have a seamless working relationship where the design, delivery times and ultimately the customers expectations are met.
They have the necessary expertise and product quality we are looking for and can provide us with very detailed drawings before we begin production."
System integration specialist, England.