Getting heavy teaching equipment to the first floor
Automotive Industry Development Center in Frederikshavn, Denmark, needed an elegant solution to lift heavy objects up to the classrooms on the first floor of a brand-new building. Our solution met both requirements and even had an economic benefit.
---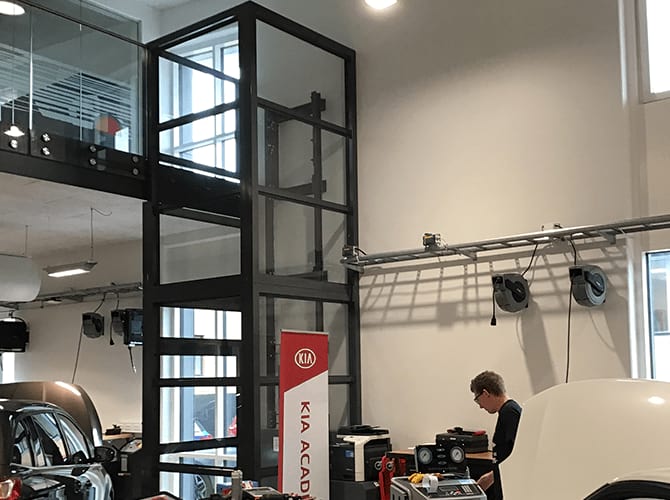 The challenge
How do you get heavy teaching equipment up on the first floor?
The Automotive Industry Development Center, that educate mechanics, was getting a brand-new extension to teach in. They had moved the classrooms up on the first floor and would therefore have a challenge transporting various teaching equipment such as engines, tool cabinets and other up to the premises.
They had already been offered a simple, square lift, which was very expensive and ruined the design of the new building. The Automotive Industry Development Center then contacted TRANSLYFT to hear about an alternative solution.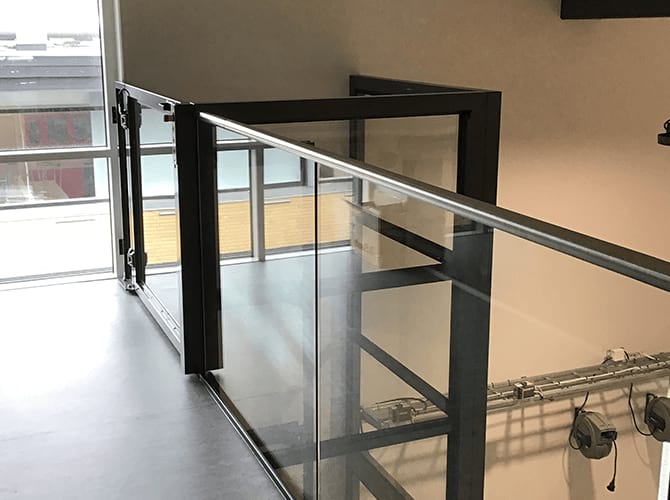 The solution
A mast lift with glass shaft
The solution was a mast lift with a shaft in glass. That way, there would be no "closed" sides on the lift, because you would be able to see through it. In addition, the lift was painted grey which was one of three colours chosen for the interior of the new building, causing it to fit into the design even better.
The result
Decorative and usable solution that inspires further use
The mast lift is used daily and the users are happy with the lift, which was both considerably cheaper and more elegant than the solution they were first offered.
"The result is really good, and we use it for everything possible. For example, we have just found out that we can also move tables and chairs with the mast lift and in this way adapt the classrooms continuously.


I'm really surprised that this process was so simple. In the construction process we had a lot of problems along the way, but even though TRANSLYFT had never made a mast lift with glass sides before, everything went smoothly. They sent 2 professional service engineers to set it up, and then everything has worked according to plan ever since."
Peter Jakobsen, instructor, The Automotive Industry Development Center